Infrastructure
The college has a huge campus with provision of Academic block, Hospital, Pharmacy, Herbal Garden and Hostel. It also comprises of residential complex for faculty members, staff quarters and guest house.
Academic Block
We have 14 departments as per requirement of CCIM. The academic block constitutes the main college building having the different clinical and non-clinical departments, class-rooms, auditorium with audio-visual aids, dissection hall, anatomy museum, well equipped laboratories, well-maintained library and a separate administrative wing. It includes the following departments:
Non -Clinical Departments
Basic Principle Department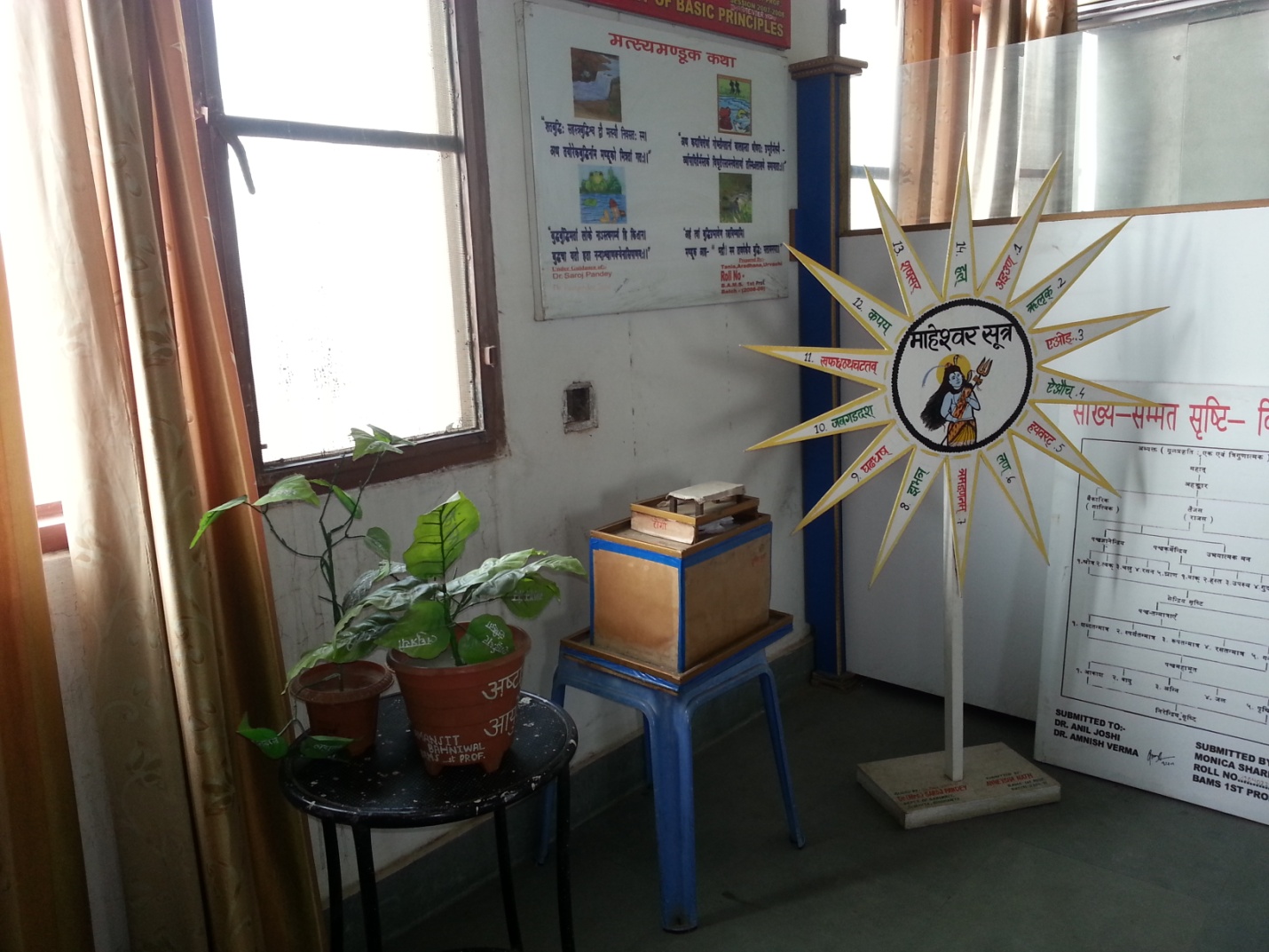 This department imparts knowledge in the subjects of Sanskrit, Padarth Vigyan, History of Ayurveda, Charak etc. and basically leads you to the roots of Ayurveda.
Sharir Rachna Department
The department of Anatomy i.e. Rachna Sharir in the college has a well equipped museum and a spacious dissection hall. A number of models, preserved specimens and charts are kept there on the subject for better knowledge of anatomy. Each particle of the body is studied deeply & wistfully to provide the basic and comprehensive knowledge of human body. A complex structure of human body is studied with audio-visual aids as well as live dissection to grasp it instantly for long term.
Sharir Kriya Department
This department consists of well maintained physiological laboratory imparting latest modern concepts in the subject. Practical exposure in the physiology laboratory facilitates the students to know the physiological tests.
Dravyaguna Vigyan Department & Herbal Garden
Department of Dravyguna has a museum where samples of various dry herbal drugs have been displayed for their proper identification. A herbal garden has also been developed on the college campus for identification of plants. The total number of trees, plants, bushes, herbs etc. have now risen to about 2000 with 150 rare varieties of medicinal plants.
Ras-Shastra & Bhaishajya Kalpana Department and Museum
This department inspires our students to know and act on their latent talent for formulation and preparation of medicine and help our young brains to develop to their full inner potential. A number of models & specimens are kept there for better knowledge.

Agad Tantra

evum Vidhi Vaidyak Department
If we value the pursuit of knowledge, we must be free to follow wherever that search may lead us. The superb museum of this department reflects the basics of toxicology & jurisprudence.
Rog Vigyan (Pathology)
The department of Rog & Vikriti Vigyan plays a vital role in diagnosis. Pathology Laboratory not only provides facilities for training students but also serves the attached hospital through all kinds of haematological, bio-chemical, serological, urine, semen,
stool and sputum investigations. All the tests are performed with the help of latest gadgets. Facilities like 300 MA x-ray machine, E.C.G. & computerized spirometer for lung function test are also available for diagnosis.
Swasthvritta